Invisible Braces


Invisible Braces in Morrisville, NC
ClearCorrect is clear and simple way to straighten your teeth. ClearCorrect can be an alternative to traditional braces and involves a series of clear aligners used to straighten teeth over the course of treatment. Similar to other invisible braces, ClearCorrect straightens your teeth gradually with custom-made, removable, clear aligners. After the treatment is complete, your smile will be restored to your desired appearance.
The ClearCorrect treatment plan involves four phases of aligner therapy, which requires a new set of aligners each phase that are worn for a three-week period. These aligners are designed to be worn all the time, except when eating and drinking, or while brushing and flossing. ClearCorrect aligners are aesthetically pleasing, making them barely noticeable and allowing you to go about your daily routine without anyone noticing you are undergoing treatment.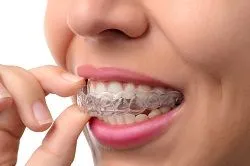 After each phase, you will notice a difference in your smile as your teeth slowly begin to adjust and align to your desired smile. Frequent checkups with your dentist are required, as this will help evaluate your progress and so that you can receive your next set of aligners. The sequence for ClearCorrect will continue until you have achieved your new, anticipated smile.
ClearCorrect invisible braces is currently suitable to straighten the smiles of adults and teenagers with mild to moderate conditions.
ClearCorrect can be used to treat the following:
• Crowded teeth
• Spacing between teeth
• Overbites
• Underbites
• Crooked or turned teeth
ClearCorrect invisible braces was designed to fit effortlessly into your life. Your aligners are easy to put in and take out when needed. Unlike traditional braces, you can show off your smile while you straighten your teeth with ClearCorrect. If you are ready to take the next step to getting a straighter smile, speak with your dentist and find out if you are a good candidate for ClearCorrect.
Interested in ClearCorrect invisible braces? Call Elite Smiles in Morrisville, NC at (919) 388-0137 to learn more today!